From its screenshots and trailers, you could easily lead yourself to believe that ONRAID looks like one of those popular web browser side-scrolling multiplayer shooters from back in the day. You'd be right.
Status: Early Access
Developer: Pragmatix Ltd
Publisher: Pragmatix Ltd
Genre: 2D Arena Shooter
Release Date: Came out August 29th, 2016 in Early Access
Preview written by MeltingComet, edited by ThatFuzzyTiger
2D Multiplayer Shootouts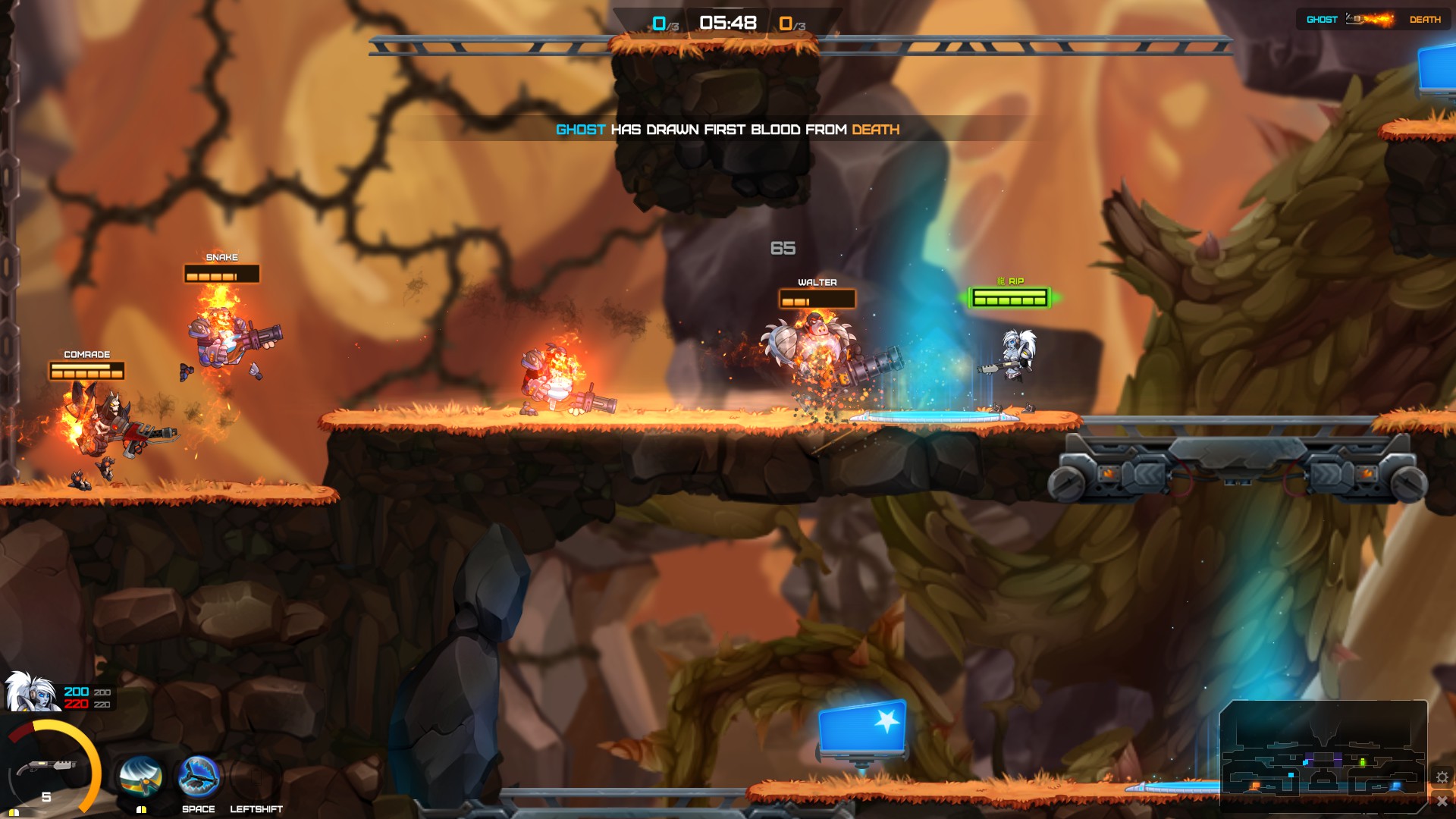 ONRAID is a 2D MOBA Class-Based Online Shooter where you'll be pitted among other players to solve Team Objectives and defeat opponents in crazy shootouts. It's map gives a emphasis on power-ups and platforming, a staple of many games like it. The Classes are not much to go on about, but they all have unique abilities and weapons. A lot of the weapons/skills you can use in battles have to be unlocked via crafting and leveling, which I'll cover later.
As soon as I got myself into a match, I knew exactly what to expect. It plays like one of those 2D Multiplayer Shooters that are incredibly popular as a browser game. They normally feel floaty (and sometimes janky) control-wise, and highly favor shootouts where players can optimally dodge different types of bullets, minimizing damage and creating crazy shootouts. As of writing this preview, I can say that it all works mostly fine, and was definitely good fun, but it's definitely going to need a lot more polish in the long run for it to be a much more playable experience.
It's easy to pass off of ONRAID due to it's generic aesthetics and presentation, however it does take full benefit of larger screen displays with a clean interface. Compared to peers in the genre, I can see so much more of the screen, which means the chances of being blindly hit by all sorts of enemies is very low, something I definitely approve of!
Multiplayer Antics
ONRAID currently has 3 different ways to play the game. You have the choice of Online Matchmaking (which will you place you in an online ranking league similar to most Mobile games), Offline Practice, and PVE Co-Op battles.
The main way to go here is the competitive PVP multiplayer, because the Co-Op battles are absolutely unremarkable and impossible to beat without a group of 3. While the bosses definitely had a level of effort put into them, they don't complement the game's mechanics that have clearly been balanced for PvP combat. Hopefully, this can change in the future, since i would get a kick out of playing the game in a more campaign-kind of style where the player is on more even grounds with the enemy.
For what's currently here, ONRAID has an acceptable amount of content. Hopefully it'll get a lot more objectives, maps, and improved PvE bosses in the long run as it develops as a Early Access game. For those wanting a easy game to spend a few minutes on, there's enough here to allow that to happen.
Craft to Continue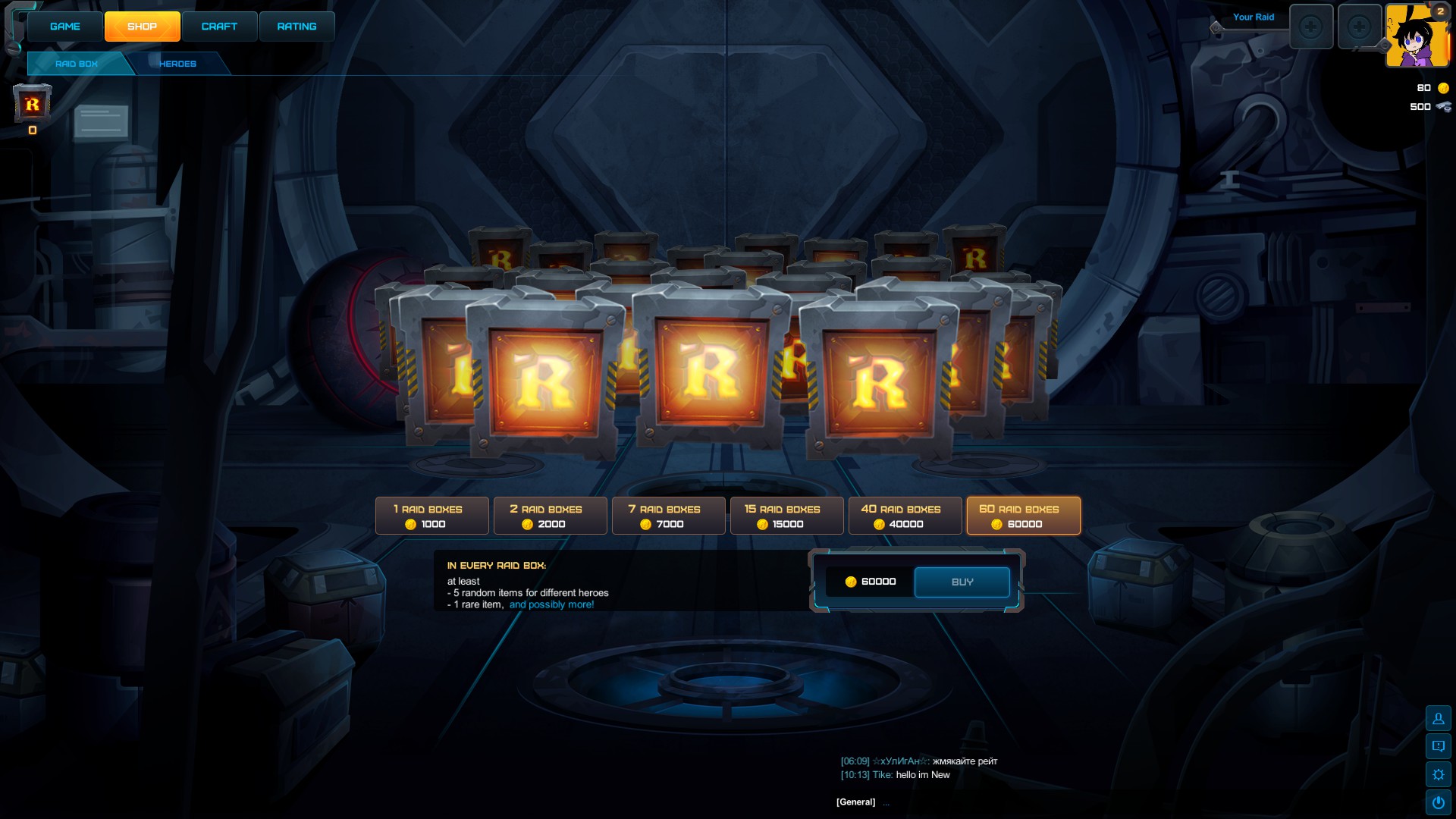 One of the major systems ONRAID has is both a level progression system and weapon unlocking by way of crafting. Players can craft skins, weapons, and gadgets for combat. However, I found crafting these materials to be incredibly tedious. With no microtransactions in sight, one would have to wonder if this game intends on being strictly free-to-play or if this is a deliberate design decision.
Thankfully, the game seems mostly balanced with it's standard weapons and gadgets already being versatile and flexible enough. However, level progression locks you from certain skins and gadgets that once unlocked, you then need to grind out the materials to craft. This makes for a long stint when it comes to attaining gear and it really seems like a side-thing next to the main package, but it doesn't improve the experience at this point. Hopefully, this can be changed in the final release, as I do feel like the current system as of now really could use some improvement.
Conclusion
So far, ONRAID has a good amount of potential to really become a fun, energetic experience that brings players back in the heyday of online browser shooters. However in it's current state of development it does require some significant improvement, and it's level progression system being a complete grind requires serious examination. Hopefully by release, the developers can polish up the modes and improve on the crafting, because as they stand they conflict with the potentially bombastic fun ONRAID truly is.
MeltingComet/Nikoback is a young, up-and-coming game developer, speedrunner, and game reviewer. Follow his antics and current projects at nikobackportal.weebly.com. This was his first written content for PCGN!